Reid Families
Rousay Reids
All the Reid families in Rousay were descended from George Reid who was born in Westray in 1755. He moved to Rousay to take up a position as a servant at Westness, the home of the main proprietor in Rousay at that time. He lived to the age of 104 years. When he was 100 someone from a newspaper 'in the south' arrived in Rousay to take his photograph. The art of photography was still only in its infancy and this must have have been one of the earliest photos taken in Orkney. George's elder son, also George by name, spent a season or two at the whale fishing in the Davis Straits off Greenland. He built the house of Wasdale after being evicted from the Westside. Three of his sons from Wasdale, John, Peter, and George, went to the gold-diggings in New Zealand but Peter was the only one who stayed and made his home there. Descendants in Orkney include Olive Kemp, Alastair Donaldson. Graham Lyon, and Inga Craigie.
.
George Reid 1755-1859, father of George Reid below

George Reid of Wasdale, 1807-1900, and his wife Janet Harcus
(Photos - Sheila Lyon)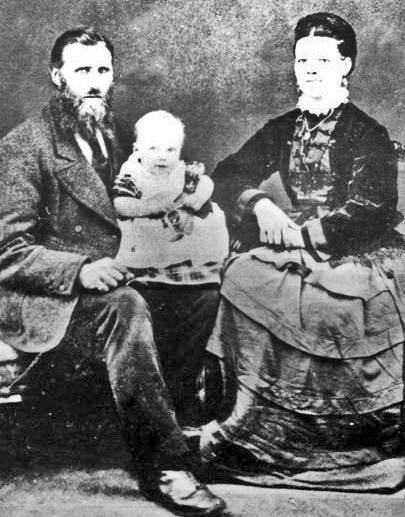 John Reid of Tratland, 1837-1893, with his wife Sarah Mainland. John was a son of George Reid of Wasdale (above).
John Reid, who appears in the photo above, was a member of the 2-man crew of the postboat that carried mail between Rousay and Evie every weekday. One day in October 1893 while crossing with a mother and her three children as passengers the boat was overcome by heavy seas and was lost with all on board.
Egilsay Reids
In the early 1800s there was a Reid family residing at Stanecrew in Egilsay. The head of the family was William Reid who married firstly, Barbara Alexander and they had a son Archibald born on 21 August 1805. William's second wife was Christian Mowat and they had three children, Mary b. 1810, Janet b. 1812, and William b. 1816. This family later moved to Rousay. Archibald married Mary Downie in 1839 and after the births of two children the family emigrated to Nova Scotia in 1843 and five more children were born there. There are numerous descendants in Canada and the United States.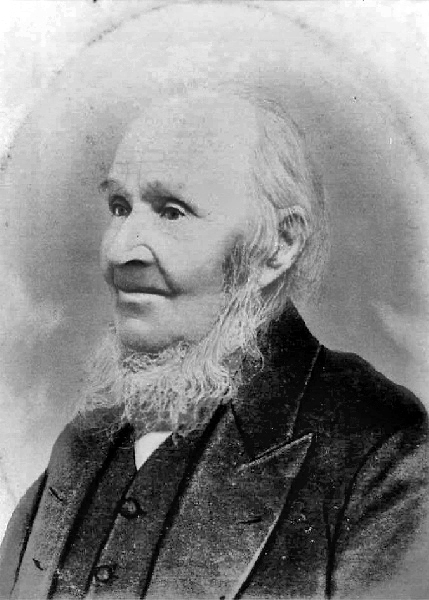 Archibald Reid, born in Egilsay, Orkney in 1805, died in Pictou, Nova Scotia age 89. He married Mary Downie in Rousay in 1839.
(Photo by courtesy of Jim Reid)