The Leonards of Grain, Treblo, and Cruannie
This family of Leonards can be traced back to John Leonard at the croft of Grain. He would have been born probably in the early 1770s. He married Isabella Inkster in 1802 and they had four children, John b. 1802, Mary b. 1810, James b. 1812 and George b. 1816. John married Ann Kirkness from the parish of Sandwick and there are many descendants. There are also many descendants of James and George, including Ruby Leslie, Bruce Dyson, Mary Nisbet, Beth Johnson, Vernon Corsie, and Phyllis Braby. Mary Leonard married James Pearson and some of their descendants are to be found in Canada.
James b. 1855, a son of James b. 1812, was a stonemason who stayed at Cruannie. He married Ann Marwick, daughter of David Marwick and Betsy Clouston of Tou Cottage. Their first child, David b. c1875, does not appear in the photograph below taken between 1898 and 1900.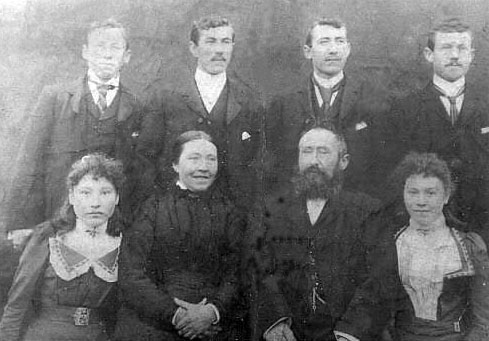 James Leonard 1855-1904 and his wife Ann Marwick with their sons, L to R, James, Archibald, William, and John, and daughters, L to R, Mary and Annie.
(Photo by courtesy of Tom Gibson)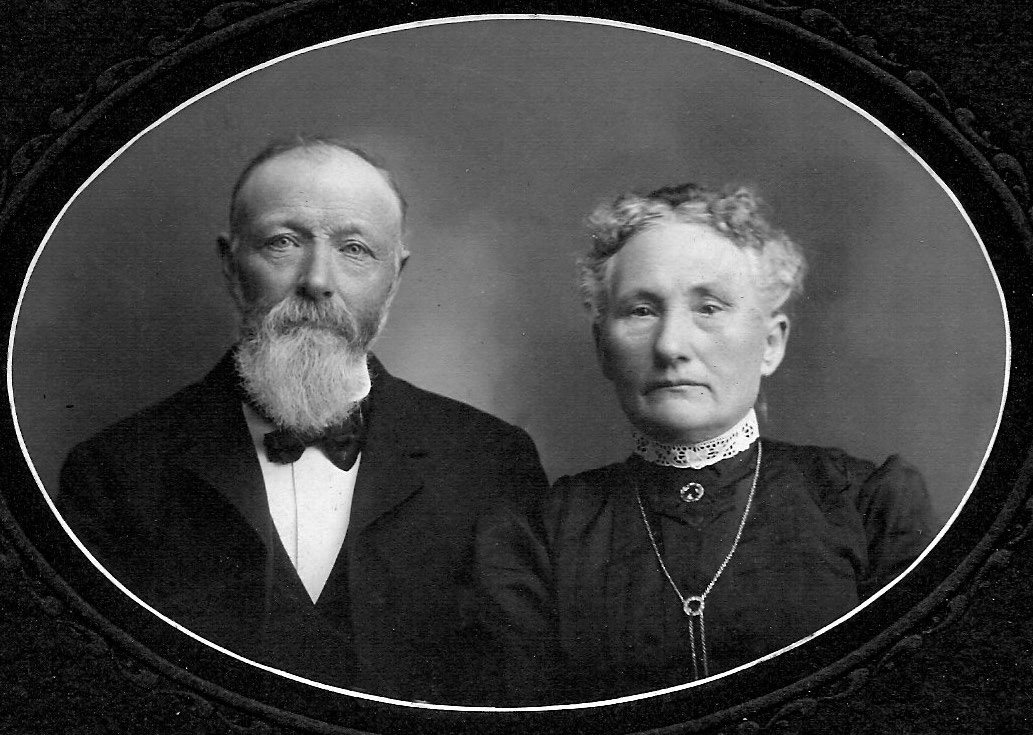 John William Brass and his wife Anna Leonard (1843-1909), a sister of James Leonard (above)
(Photo by courtesy of Susan Brass Schultz, Michigan USA, their g-granddaughter)
John Inkster Leonard (b 1841) and his wife Isabella Kent of Westray. John was a brother of James Leonard and Anna Leonard (both above)

(Photo by courtesy of Susan Brass Schultz, Michigan USA)

Annabella Leonard (b 1881), daughter of John Inkster Leonard and Isabella Kent

(Photo by courtesy of Susan Brass Schultz, Michigan USA)

Wedding photo of Bill Leonard & Mary Shearer in 1917. Bill (b. 1882) was the son of John Inkster Leonard & Isabella Kent (above)

Photo by courtesy of Rosemary McLaughlin, Orkney

their granddaughter

Mary Leonard (b. 1873), daughter of John Inkster Leonard & Isabella Kent (above)

Photo by courtesy of Rosemary McLaughlin, Orkney

Bill Leonard & Mary Shearer with daughters Nora (on his knee), Rhoda and son Leslie

Bill Leonard with sons (L to R) Walter and Leslie

Photo by courtesy of Rosemary McLaughlin, Orkney

Photo by courtesy of Rosemary McLaughlin, Orkney

Bill Leonard (right) and his brother-in-law John Rendall married to Mary Leonard (above), c1953

Nice Wellies!

Photo by courtesy of Rosemary McLaughlin, Orkney

Archibald Leonard b 1881 and his wife Margaret Jean Gibson b 1877 with their children, L to R, Verna, Marion, Ivy, David, Thomas, and Anna Mae behind them, taken 1914/1915.

(Photo by courtesy of Doug Hoover)

50th Wedding Anniversary, Margaret and Archibald Leonard, 17 Feb 1955

(Photo by courtesy of Doug Hoover)