Sourin Harrolds
The earliest traceable ancestor of the Harrolds in Sourin was William Harrold who married Mary Ann Mainland. He is known to have had two sons William born in 1778 and Robert born in 1798. William b. 1778 married Elizabeth Grieve and their son William born in 1826, who was a stonemason, married Elizabeth Marwick from the croft of Hanover. They lived at Hammermugley in the Sourin district of Rousay.
Robert b. 1798 was a weaver. He married three times, (1) Ann Banks, (2) Ann Grieve, and (3) Cecilia Craigie. He lived at Cruannie, not far removed from his brother.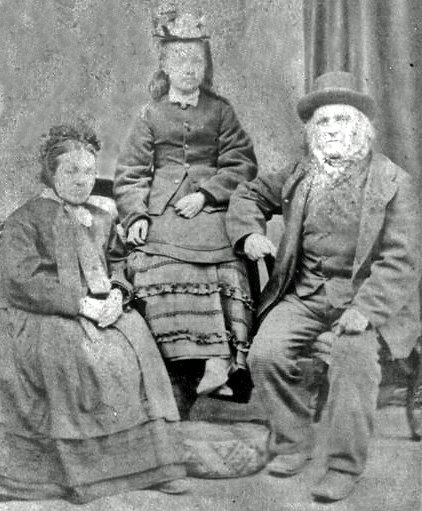 William Harrold, stonemason, with his wife Elizabeth Marwick and their daughter Betsy
(Photo - courtesy of Tom Gibson)
Wyre Harrolds
There were also Harrold families in the island of Wyre.