Sourin Corsies
The earliest traceable one in this family is Hugh Corsie born c1770. He married Christian Sinclair, a sister of Archie Sinclair. Their son Malcolm, born 1798, married Isabella Louttit. and a daughter of theirs married John Robertson of Banks in Frotoft. Their son William Corsie, 1830-1917, married Ann Leonard from Digro, Rousay.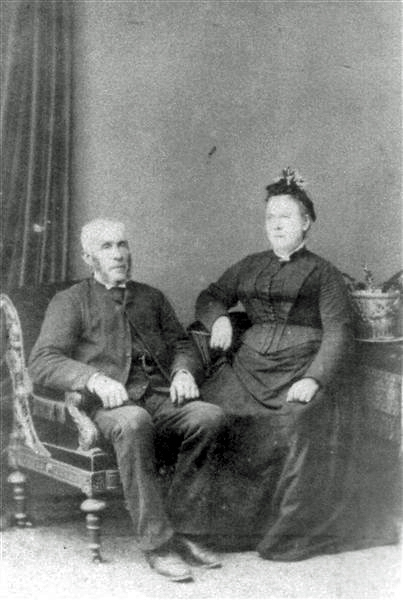 William Corsie 1830-1917, and his wife Ann Leonard.
(Photo - T Gibson)
John Corsie of Knarston, Rousay, a son of William and Ann above, married Margaret Skethaway. They are seen with their children in the photo below.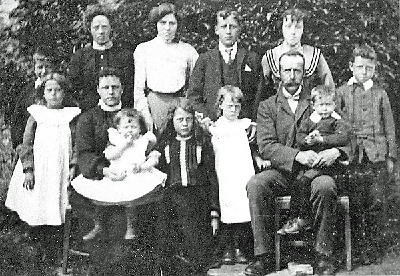 John Corsie of Knarston, Rousay, with his wife Margaret Skethaway and their children. Back row (l-r) William, Janet, Maggie Jean, John, and Agnes. Front row (l-r) Lizzie, Mother with Cilla, Ann, Minnie, Father with Peter, and Tommy.
(Photo by courtesy of Gertrude Seatter)
Frotoft Corsies
There were also Corsie families in the district of Frotoft. The earliest traceable member of one of the Corsie families of Frotoft was James Corsie who married Christian Louttit of Cotafea in 1798. Their son Alexander (1819-1898) married Ann Sinclair from Tratland. John Corsie, a son of Alexander and Ann, married Margaret Craigie from Mount Pleasant.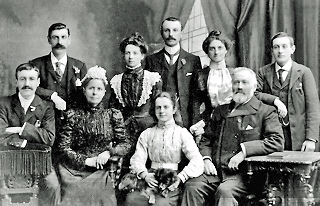 John Corsie b. c1847 with his wife Margaret Craigie and their seven children. Standing l to r: John Jr., Isabella, William, Mary Ann, and Hugh. Seated: James, Margaret Craigie, Jessie, John Corsie Sr.
Mary Ann was Tom King's grandmother.
Photo by courtesy of Tom King