Rousay Alexanders
All the Alexanders in Rousay were descendants of James Alexander of Breckan and his wife Barbara Marwick. Their eldest son James born 1815 married Janet Louttit and they had sons James and William. James married Ann Sinclair in Rousay before moving to a farm on the island of Sanday. William married Margaret Gibson in Rousay and also moved to a farm in Sanday.
Magnus Alexander, born 1819 to James and Barbara, married Margaret Inkster and their son James born in 1854 married Sarah Ann Marwick from Whitemeadows.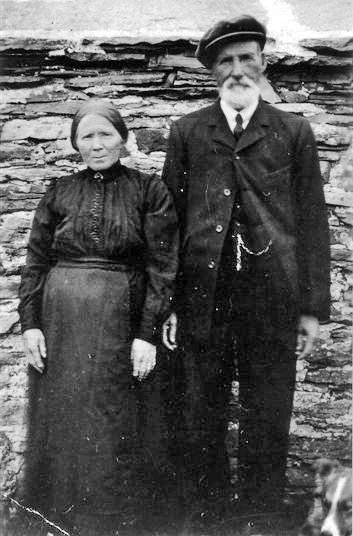 James Alexander, 1854-1940, and his wife Sarah Ann Marwick. They lived at Burness, Rousay.
(Photo by courtesy of Tom Gibson)
Egilsay Alexanders
The earliest traceable ancestor of the Egilsay Alexanders was George Alexander who was born probably about 1775. He married Elizabeth Craigie and worked the farm of Netherskaill. They had seven children, one of whom, James, married twice, (1) Douglas Garson and (2) Isabella Craigie. Douglas was a popular girl's name in Egilsay for many years. James (1882-1949), who was a son of the second marriage, married Elizabeth Robertson.(1885-1968). Their photos appear below.
James Alexander 1882-1949 of Netherskaill, Egilsay

Annie Robertson 1886-1968, wife of James Alexander (left)

(Photos by courtesy of Edwin Alexander)